The Big Thompson Team Kicks Off Public Outreach at National Trails Day and 4th of July!
The City of Loveland and the Big Thompson River Corridor Master Plan project team are excited to announce that public outreach efforts have begun to find out what the citizens of Loveland would like to see along the Big Thompson River Corridor!
The first event that the project team attended was National Bike and Trails Day at Fairgrounds Park on June 3, 2017. We met with over a dozen citizens who were visiting the park, and the Mayor of Loveland even came by to see our poster boards. We were really lucky to have a booth right next to the Big Thompson Watershed Coalition, and we were also located close to the drum circle and belly dancers, which helped to draw a crowd to our location. Jodi Lessman and Chris Carlson of the City of Loveland were joined by Andrew Earles and Brandon Parsons of the project team. National Bike and Trails Day was a nice introduction for the project team to the type of community events that the City of Loveland hosts throughout the summer.
Earlier this week, Jodi Lessman, Chris Carlson, and Andrew Earles attended the 4th of July celebration at North Lake Park. We were able to set up a tent with a table containing handouts about upcoming events and our public workshop on the 25th and the 26th of July. Some gusting wind and light rain posed some challenges for the poster boards, but with a little "engineering" to connect the easels and the poster boards to our tent posts, we were able to overcome these obstacles. We really enjoyed being a part of the Loveland 4th of July festivities, and we had a number of people come by and talk with us in detail about what they would like to see along the corridor. Based on feedback so far, many residents would like to see a corridor with natural character that has some improved accessibility for the public. There are a lot of bike riders in Loveland, and trails have also been identified as a high priority. We sincerely appreciate the time that people are taking to come by and share their thoughts with us.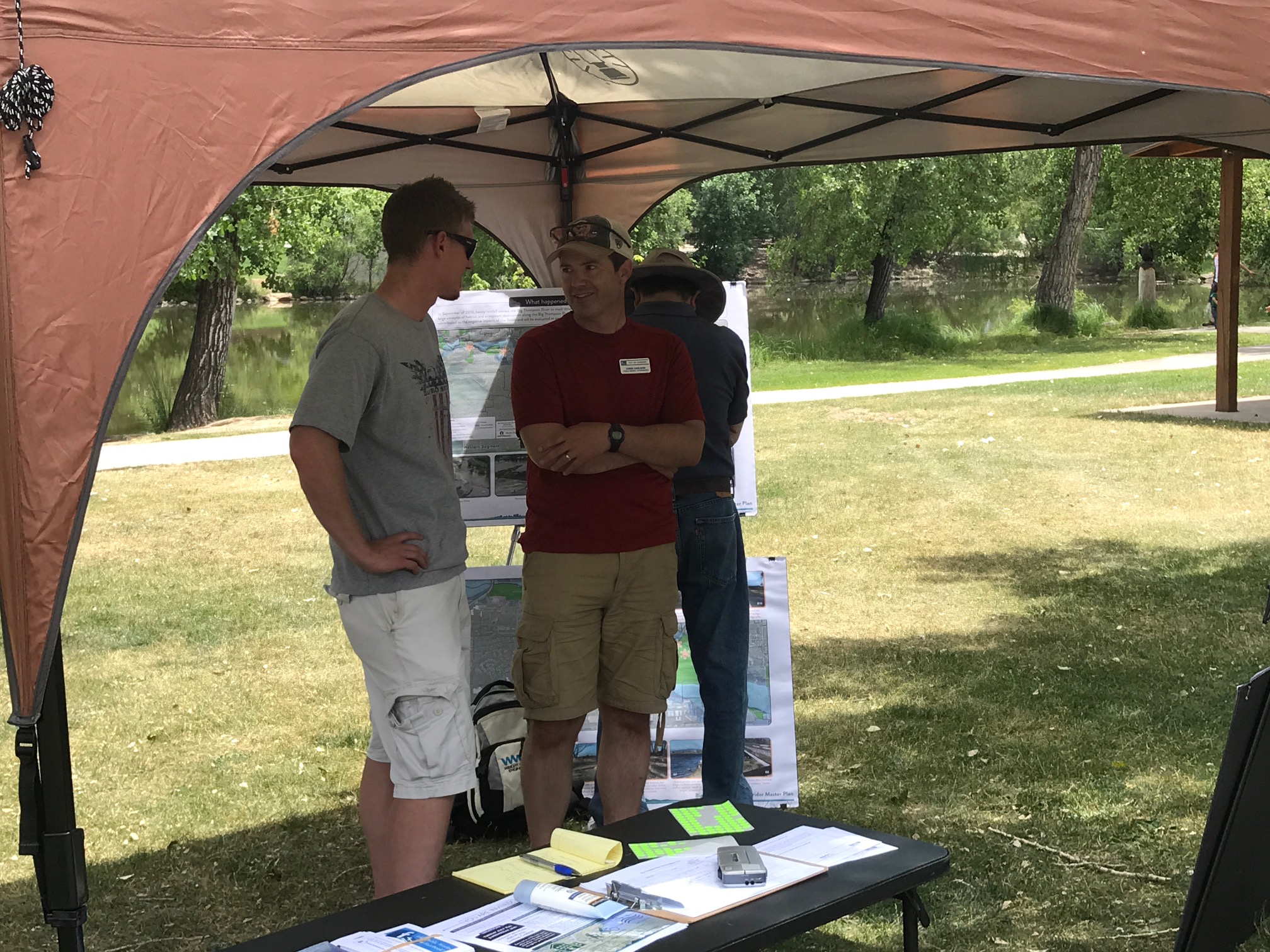 Our next major event will be the Cherry Pie Festival on July 8, 2017, so please come out and tell us what you would like to see along the river corridor.